We proud to announce a new major update of all of our animation programs: DP Animation Maker, Animated Wallpaper Maker, and Animated Screensaver Maker.
New Features Overview
New Timeline Control

This is the main feature that extremely extends the capabilities of the animation editor by giving you the ability to set most of the animations to stop and resume randomly or at specific moments in time.
For example, you can create sparkles or blinking lights that appear in the scene randomly or synchronize different animations layers like lightning with thunder or a sequence of text captions.
More details can be found in this article.
New Look for the Add Animation Dialog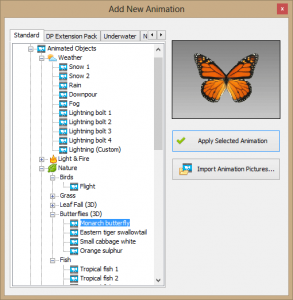 We completely redesigned the Add Animation dialog and improved its usability. Now it features a small animation preview in the top left corner and separate tabs for each extension you have. It also allows you to add animations one by one with just a single double click without the need to reopen the dialog each time.
Improved Import Animation Feature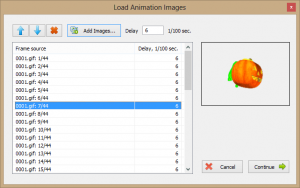 The new Import dialog allows you to combine animations from separate images (for example PNG frames), edit timings, and preview the result.
Clone Animation Layer Option
In the new version, you can make the context menu available by right clicking on any animation layer. Besides the standard options, it has Clone options for creating a copy of an existing animation layer with one mouse click.
View Controls Fresh Look
We redrew the main view controls to make them look smarter and added the ability to rotate and resize some types of objects right in the main view area.
Dual Monitor Wallpapers
Animated wallpapers now work on both monitors of dual monitor systems, so if you have one, your desktop will look even more fantastic.
New Update Policy and Grace Period Information
Starting from the date of this major update, we changed our software update policy from version based to time based. This means that all subsequent updates will be free for registered customers within a specific period of time. You can choose between a 6 month and 12 month update period.
Update DP Animation Maker
Update Animated Wallpaper Maker
Update Animated Screensaver Maker
Existing customers who purchased a full license recently and have not had the chance to enjoy free minor updates can receive this update and a 3 month upgrade period for free.
To claim your free update, you have to have a full license that was purchased not earlier than August 1, 2013.